Services
Recogazo

Real-time recommendation email service

(an optional service of "Aigent Recommender.")
Information on recomended items can be returned in real-time as soon as the email is opened. This enables you to solve major problems of conventional recommendation emails, such as the barrier in introducing customers and the time lag from traditional / static recommendations. Recogazo realizes easier and more real-time  recommendations in emails.
Features
One-to-one communication
In the past, companies recommended the products they wanted to sell to all customers or made recommendations to specific customer segments. With Recogazo, AI infers the users' interests and tailors communication to each individual user.
Real-time recommendations
As soon as the email is opened, the Aigent Recommender database returns recommended product information. Recommended products tailored to the user are automatically displayed in real-time.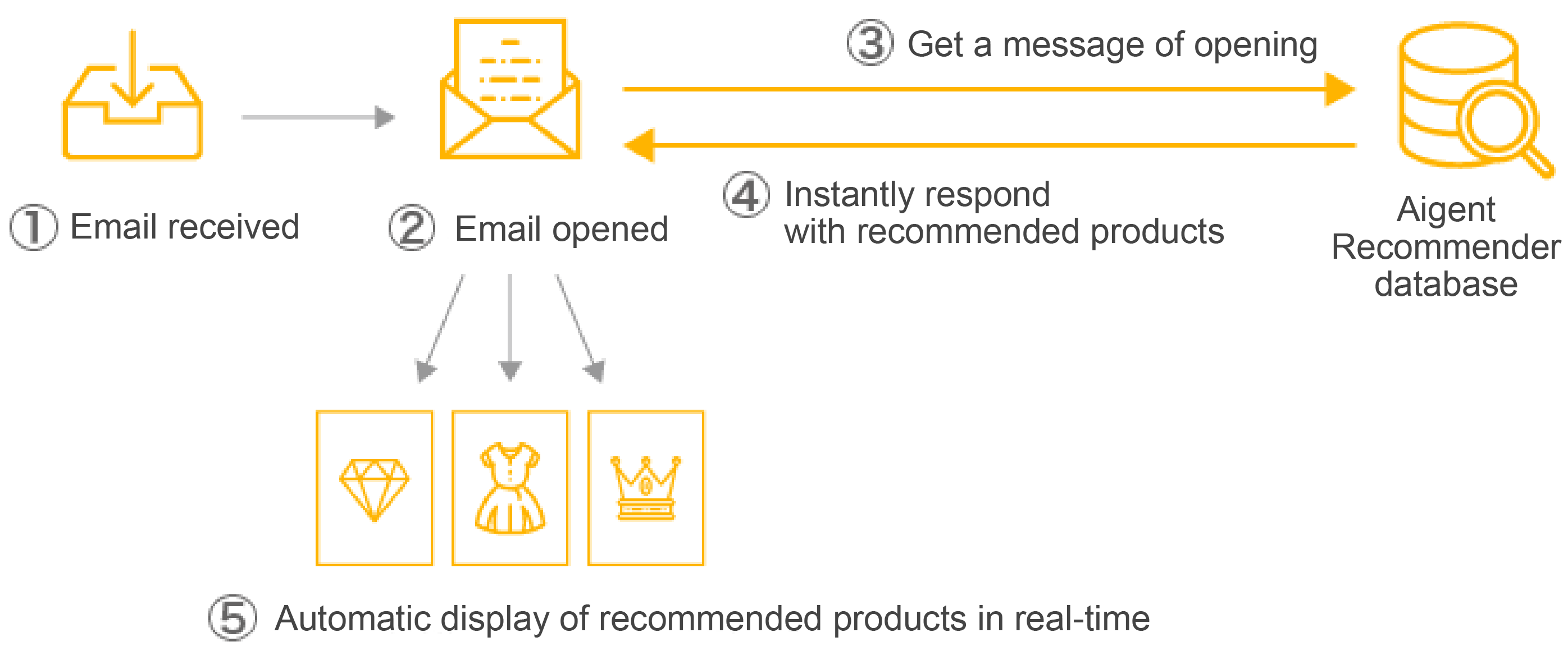 Lower cost of introduction and operation
Developing a recommendation engine in-house incurs high development costs and a high operational burden. To install Recogazo, you simply need to insert an HTML tag in the mail. Recommendations are made automatically by the AI. In addition, it is possible to use Recogazo more cost-effectively because the charges are based on the number of clicks.
Function
Target select function
With this function, you can extract the IDs of disengaged users who used the cart but did not purchase the item, or who viewed a product but did not purchase it.
The extracted user IDs can be used as recipients in messaging systems such as email.
In addition, when combined with Recogazo, it is possible to send reminder emails (*) displaying cart products, browsed products, and related products in the message.
*Email to encourage disengaged users to visit again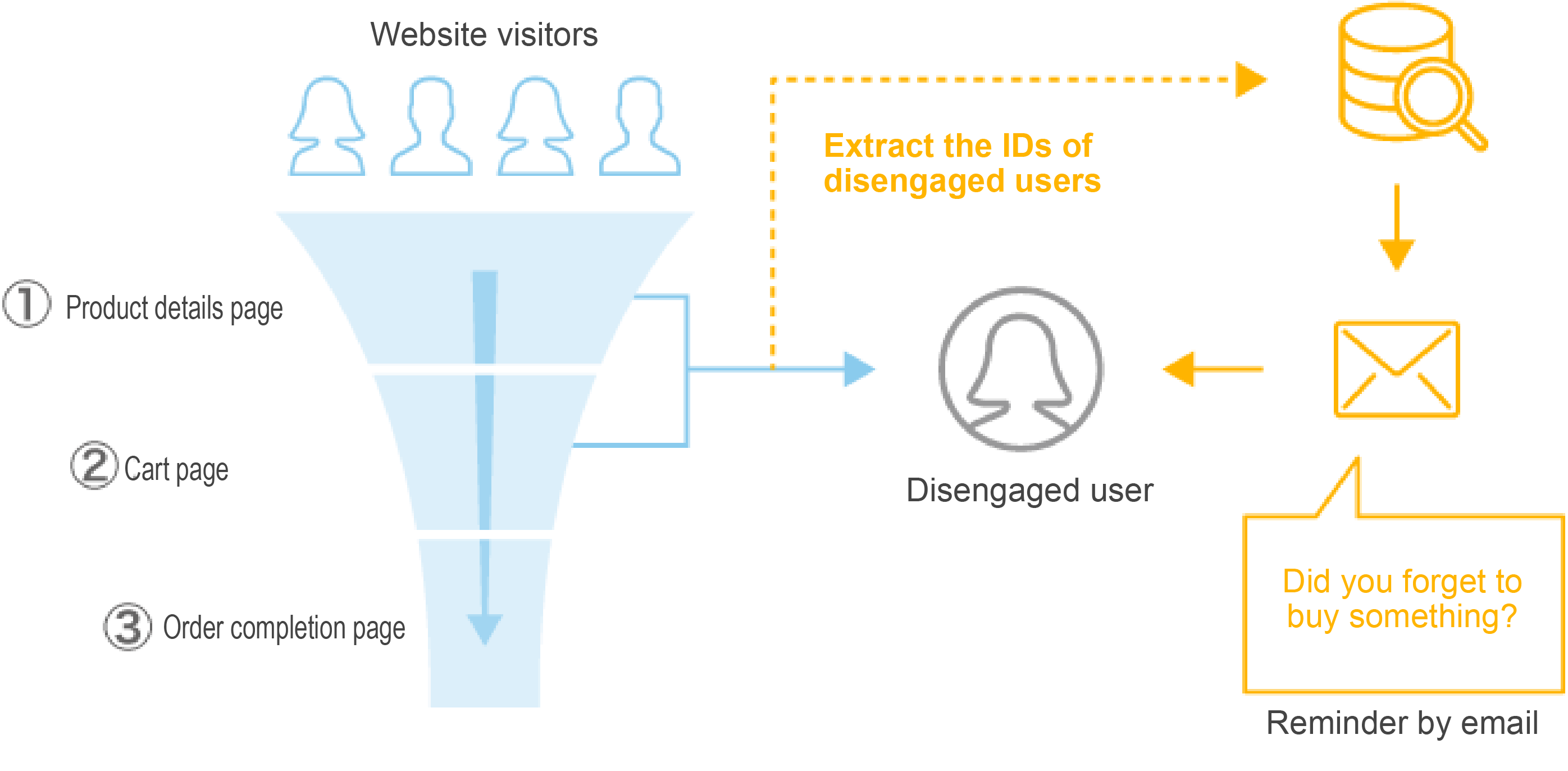 Usage scenarios
Use regular emails to make your website a site that users always want to visit
Regular email delivery after purchase is an important measure to connect customers and convert them into fans of the website, rather than just pushing products. By continuing to provide a user experience with recommendations that convey "Find the right products for your taste!" via email, you can increase the frequency of visits to the website and create a virtuous cycle of lifetime value improvement.
Push the most "attractive" products every season
Aigent Recommender and Recogazo identify changes in customers' preferences, such as "people who have bought items X and Y in the past are now paying attention to items W and Z", and incorporate these trends into recommendations. This can increase a customer's buying motive without having them feel put off by the email, even if you need to deliver highly seasonal content.
Other optional services
Recomail

(Recomail is an optional service of Aigent Recommender)
This service recommends information that suits customer preferences by email based on the accumulated browsing and purchasing data of website visitors.

Emails that were conventionally delivered with the same content can be tailored to each user's preferences, thereby improving the repeat rate and click-through rate. In addition, since the system provides more-relevant information, it is expected that the user's desire to purchase and trust in the website will increase. As such, the service benefits both the website operator and the customer.
Pricing
Charging system
| | |
| --- | --- |
| Click-based charging system | A monthly fee is charged depending on the number of times a recommendation is clicked in the email. |
Option menu
Linkage with LINE
Free with Recogazo contract
Target select function
A function to extract users that meet specified criteria.
For example, you can extract users who abandoned the cart or while browsing and reconnect with those users.
Recogazo LINE linkage mass delivery option
This is a necessary option when delivering Recogazo to LINE and when one delivery exceeds 20,000 (assuming max 2,000 requests/min). If the delivery does not exceed 20,000, you can use the service at the normal Recogazo cost.
Recomail
In batch processing, calculate the best recommendations for each user and output them to a file.
* Separately quoted